Be kind to the world and the places you visit.
Take nothing – Leave only footprints!
Chris & Mary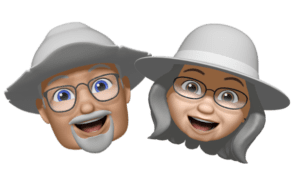 Chris and Mary are semi-retired Wedding Chaplains and recent California transplants to the Mohave Valley area of Arizona that are planning their full retirement in a few years in the Grand Canyon State. Today, they are based in both Southern California and Mohave Valley area of Arizona and continue their Weddings with Vows From The Heart in
San Diego
and
AZ
, and Vow Renewal services with Say I Do Again in
San Diego
and
AZ
. in addition to the
Elope To San Diego
services on
Coronado Island
and
Oceanside Beach
!
Both are bragging grandparents and would be more than happy to share stories of their four Grandchildren, all you have to do is ask. Two live in the San Diego area and the other two in Salt Lake City.
---
A little more about Chris: In addition to his Chaplaincy work, Chris spent 25+ years in major market radio in all facets of the broadcast industry (On-Air, Music, Programming, Operations, Sales and VP/GM). He started podcasting years ago and created the "On The Interstate Radio Network" and provided travelers with an internet radio station and podcast. Chris brings his many years in broadcasting to the Arizona Podcast to aid him in the schedules, hosting, interviews, programming and the audio/technical production of this new venture. If you thought weddings and the podcast took up all of his time, think again, his Photography business is still in full swing in AZ with Desert Aloha Photography and in San Diego with Photograph Aloha.
TWITTER | INSTAGRAM.
---

---
A little more about Mary: Mary adds her many years of people skills and public speaking experience to the podcast. Her years as a franchise and small business owner, dance instructor, contracts administrator and celebrant add to her storytelling ability and love for backroad travels and excitement adds to the success to the podcast. She stays busy with her other passion of sewing and tailoring and offers her services in the Mohave Valley area with Stitch and Mimi.
---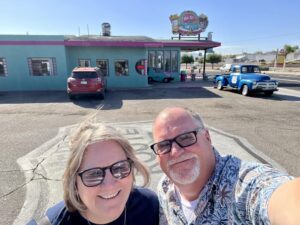 Chris and Mary enjoy traveling the backroads and learning more and more about the state they now plan to retire in and make friends wherever they go! There are planning many podcasts and are hoping to do a few live shows/recordings along their travels. Stay tuned and thanks for listening!
---
Our Mission Statement
We will use Arizona Podcast to promote and encourage both residents and visitors to explore the beauty of the State of Arizona; the history, people, cultures, landscapes, landmarks, food, music and entertainment. We will talk to politicians but not discus politics. We will talk to clergy, but not discus religion. All guests and listeners will be treated with respect and gratitude.
---