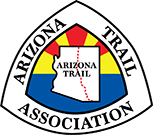 The Arizona National Scenic Trail is a National Scenic Trail from Mexico to Utah that traverses the whole north–south length of the U.S. state of Arizona. The trail begins at the Coronado National Memorial near the US–Mexico border and moves north through parts of the Huachuca, Santa Rita, and Rincon Mountains
Links provided by the Arizona Trail Association Website
The Arizona Office of Tourism and the © Leave No Trace Center for Outdoor Ethics have forged a partnership to promote sustainable tourism practices across Arizona's spectacular landscapes and unique destinations. Because people form lasting connections with nature when they understand how to protect it. Here is where you can find information to equip you with Leave No Trace knowledge and skills to protect Arizona's iconic natural features while enjoying these spectacular destinations.
It begins with The Seven Principles of Leave No Trace.
Plan Ahead & Prepare
Stick to Trails
Trash Your Trash
Leave What You Find
Be Careful With Fire
Respect Wildlife
Share the Outdoors
More information can be found HERE.