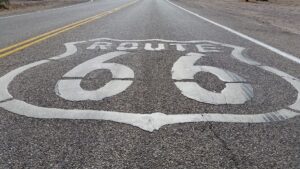 Arizona, keeping the Mother Road alive and well.
Here are a few fun facts:
Route 66 in Arizona is 388 miles in length, second to the longest. (New Mexico).

Arizona has

more than 250 miles

of drivable Route 66, including the longest unbroken stretch in existence, 158 miles from west of Ash Fork (Crookton Road, Exit 139 off 1-40) to the California state line. In 2009, Historic Route 66 in Arizona was designated an All-American Road.

The only state that has an ass for a mayor… Literally! Walter, the mayor of Oatman, AZ.
In 1987, Seligman, AZ gained its name "Birthplace of Historic Route 66" due a lot in part to resident Angel Delgadillo. Angel, a Seligman barber was responsible in getting the State of Arizona to dedicate Route 66 a historic highway.
Arizona cities are the most mentioned In the song Route 66.

Now you go through saint looey Joplin, Missouri, And Oklahoma City is mighty pretty. You see Amarillo, Gallup, New Mexico,

Flagstaff, Arizona. Don't forget Winona, Kingman,

Barstow, San Bernardino. Won't you get hip to this timely tip When you make that California trip Get your kicks on route sixty-six.

Nat King Cole
Cities on Route 66 (East to West)
Lupton
Houck
Sanders
Chambers
Navajo
Holbrook
Joseph City
Winslow
Leupp Corner
Meteor City
Barringer Crater
Two Guns
Twin Arrows
Winona
Flagstaff
Bellemont
Parks
Williams
Ash Fork
Seligman
Peach Springs
Truxton
Valentine
Hackberry
Antares
Kingman
Yucca
Goldenroad
Oatman
Topock
Must Have Route-66 Apps
The Arizona Office of Tourism and the © Leave No Trace Center for Outdoor Ethics have forged a partnership to promote sustainable tourism practices across Arizona's spectacular landscapes and unique destinations. Because people form lasting connections with nature when they understand how to protect it. Here is where you can find information to equip you with Leave No Trace knowledge and skills to protect Arizona's iconic natural features while enjoying these spectacular destinations.
It begins with The Seven Principles of Leave No Trace.
Plan Ahead & Prepare
Stick to Trails
Trash Your Trash
Leave What You Find
Be Careful With Fire
Respect Wildlife
Share the Outdoors
More information can be found HERE.