Kingman Arizona – Show 2203 Arizona Podcast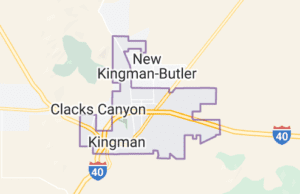 Kingman AZ
The City of Kingman is a city along Route 66, in northwestern Arizona. Elevation of 3,333 and a populations of 30,000. The historic Mother road and the role of Kingman is most certainly part of American history and is celebrated at the Route 66 Museum, set inside the Powerhouse Visitors Center. Murals, dioramas and a library at the Mohave Museum of History and Arts traces local history. Locomotive Park, featuring old Locomotive 3759 a 1928 steam engine, and the Kingman Railroad Museum documents the city's past as a 20th-century railway hub.
I had an awesome discussion with Josh Noble Tourism Services Manager for the City of Kingman. He is a walking and talking knowledge base about the City of Kingman Arizona! Normally I would give my input of the Cities I visit and some notable must see's… This show…. I just let Josh run loose as he is so much more knowledgable than I about this than I will ever be… Enjoy everything and be sure to tell any and all of the locations you visit that you heard about it on Arizona Podcast!
This edition of the Arizona Podcast is supported by E-SET – The best and award winning Comprehensive, multi-platform security for all aspects of your digital life. Whatever you do online, stay protected with ESET Internet Security. The Marriott Bonvoy Card by Chase. Where you Earn points and Elite Night Credits plus, a free nights stay every anniversary with the Marriott Bonvoy Boundless Card. Passport America – The original and worlds largest 50% discount camping club where you can save at over 1,200 quality campgrounds across America including almost 100 right here in Arizona, including the Grand Canyon Railway RV Park in Williams and 2 more on highway 64 en-route to the Grand Canyon.
Topics | Locations Discussed
Josh Noble
Tourism Services Manager
Kingman Office of Tourism
Josh coordinates Kingman visitor services, collaborates with the Arizona Office of Tourism to build and implement marketing campaigns and media missions, and compiles historical data to analyze trends so that Kingman's marketing strategy aligns the expectations of our visitors with the community promise. Josh transitioned into the tourism industry while working at the Kingman Area Chamber of Commerce in 2007, where he managed membership services and special events. He earned his Bachelor of Science in Business Administration from the W.P. Carey School of Business at Arizona State University and held an internship as a Majority Staff Legislative Research Analyst at the Arizona State House of Representatives. Josh serves on the Historic Route 66 Association of Arizona Board of Directors and on the Finance and Library & Media Committees of the Mohave County Historical Society. Josh enjoys photography, cooking, researching and preserving local area history, and recreating outdoors with his wife, two boys, and two girls.