Winslow Arizona – Show 2202 Arizona Podcast
Winslow, AZ
The City of Winslow AZ – a small town with big adventures that incorporated by in 1900. Just about 100 miles west of the New Mexico border on Interstate 40. Sits at just under 5,000 ft in elevation and covers just about 13 square miles.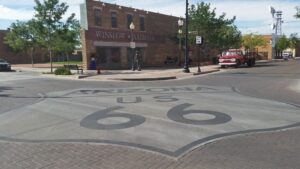 Winslow is home to a multitude of attractions including a stop on the mother road at the famed "Standing On The Corner Park" made famous by the band the eagles with their 72′ hit song "Take It Easy" (Music Trivia: Written by Jackson Browne and Glen Frey). The park was created by the city back in 1999 to add to the magic of the city of Winslow. Its estimated that over 100,000 people visit this site… myself included. And like many, have that photo posted on my website.Not familiar with the lyrics?
"Well, I'm a standin' on a corner in Winslow Arizona, Such a fine sight to see, It's a girl my Lord, in a flat-bed Ford, Slowin' down to take a look at me"The Eagles
The La Posada is a must to see and a must stay if you're in the area built back in the 1920's its iconic and after its renovation, has become one of the top hotels in the southwest. Set in a restored railroad hotel built by the Santa Fe Railway, this beautiful southwestern-style hotel lies next to the Winslow Amtrak station and a few minute's walk from Winslow' Route 66 Park.
Not in the mood to stay in a hotel, want to camp, paddle board or kayak? McHood park and Clear Creek are a must as well.
If you stay close to town and want a nice cold one, can I suggest a stop in the RelicRoad Brewing Company? Fried Pickles are on the menu…
If you're not going to make a stop at the majestic Painted Desert and Petrified Forest east of Winslow I would encourage you to drive just north of Winslow to the Homolovi State Park & Little Painted Desert Park .. Giving you a view not so crowded.
The Meteor Crater, IS the best preserved meteor crater site on earth. Don't forget to take the old way to get there by stopping by Meteor City, it has its very own exit off I-40 at exit 239 from the east or west and is home to the now closed but roadside photo worthy, Meteor City Trading Post. Movie trivia, this site was Used in the movie Starman back in 84' when Starman meets Mark Sherman from SETI.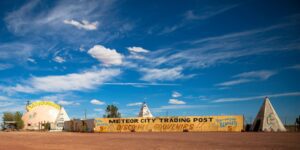 This edition of the Arizona Podcast is supported by E-SET – The best and award winning Comprehensive, multi-platform security for all aspects of your digital life. Whatever you do online, stay protected with ESET Internet Security. The Marriott Bonvoy Card by Chase. Where you Earn points and Elite Night Credits plus, a free nights stay every anniversary with the Marriott Bonvoy Boundless Card. Passport America – The original and worlds largest 50% discount camping club where you can save at over 1,200 quality campgrounds across America including almost 100 right here in Arizona, including the Grand Canyon Railway RV Park in Williams and 2 more on highway 64 en-route to the Grand Canyon.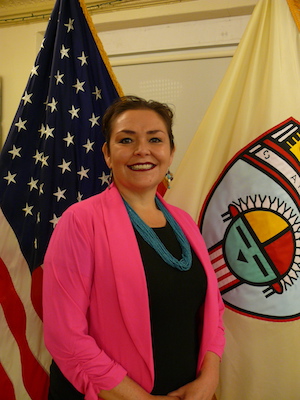 Mayor Roberta Cano
I have so much shiłnilí (Navajo word for respect) for Mayor Roberta "Birdie" Cano and what an honor to have shared time and laughs with this fun spirited woman of many firsts in her hometown of Winslow Arizona. First woman Mayor and most importantly, first Native American to hold this office. You can hear her excitement within the first few moments of this podcast. Does she take her job seriously? YES! Is she good humored and a happy soul? YES! Both of these attributes can be witnessed by her great sense of community spirit. Need a little more proof? Take a moment to follow her on her Instagram page (
Link
) to see. Seriously, this woman is amazing and never slows down. I fell in love the city of Winslow from my very first visit in the Summer of 69′ and although only been back there a few times, it is a warm and welcoming town. From the famed Eagles "Standing On The Corner" park tribute, to the shops and restaurants where we have a date for Chili Fries and a cold beer on Route 66 (no worries, our spouses are totally cool with this and will probably join us). She is fun spirited, even at work as witnessed by her
Why Not Winslow
Instagram video of weed-wacking in the community spirit town clean up (
Link
) … She is amazing and the town is growing by leaps and bounds with her at the helm. Mary and I can't wait to go back and get a personal tour of her fine city and meet more of the people that make it such a kick, on old route-66!
From the town of Winslow Website: I am a hometown girl, born and raised in Winslow, Arizona. Living in Winslow exposed me to many diverse cultural activities and experiences which helped me recognize the importance of being part of a strong community and honoring cultural traditions. Upon graduating from High School, I began a career working for the Arizona Department of Corrections in Yuma, Arizona. Working in the correctional field, I was an Officer, Sergeant and Correctional Officer III where I developed leadership skills, interpersonal skills and an affinity for teaching. In 2005 I married the love of my life and moved back to Winslow to raise our four children. I wanted them to experience the same upbringing I had and to enjoy the cultural diversity of the community. In 2013, I switched my career path and began working for the City of Winslow. I started as a supervisor at the local pool and ultimately made my way to City Hall where I filled many roles, including my most accomplished promotion as the Community Services Coordinator. In this position I was able to develop many new events for our city and served as the liaison for the Arts Council, the Historic Preservation Commission and all public relations needs for the City. Throughout my tenure with the City of Winslow, I recognized that various areas of our city could be improved with new innovative ideas, which inspired me to run for mayor. I was proudly elected as the first Native American/Navajo Mayor of Winslow in November 2020 and enjoy serving my community. My priorities are to build a positive work environment for all employees, bridge the gap between our city and neighboring communities and take Winslow to the next level, and create an inclusive, prosperous and unified community. Contact Mayor Cano via email at: mayorcano@winslowaz.gov – https://www.winslowaz.gov/government/city_council/Roberta_Cano.php