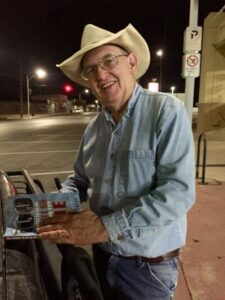 In this edition of the #ArizonaPodcast we talk with author and podcaster Jim Hinkley, a man that, if not already labeled.. should be considered one of the ultimate authorities on the Mother Road… Route66. We'll learn more about Jim Hinkley's America, his written, audio and video adventures and take a peek at what's in the future. If you haven't picked up on it over the past podcast's… I cant wait for the Route 66 Centennial in 26'. Mary and I are in the beginning stages of securing location along the mother road here in AZ for live podcasts as well as recording interviews with the experts for shows for the future so far, Winslow, Williams and Kingman have graciously agreed to host us for these podcasts and we seriously cant wait. If you googled my guest Jim Hinkley it would tell you everything… well almost.. Jim Hinckley is an internationally acclaimed author, lecturer, historian, tour guide, and tour development consultant with three primary areas of expertise; Route 66, the American southwest and the American automobile industry between 1885 and 1980. Trust me, the list of other titles and area's of expertise can go on. I have to tell you, as a big route66 buff, talking to Jim today, is equivalent to Lil Charlie Bucket walking into Bill's Candy Shop in search of the golden ticket.
This edition of the Arizona Podcast is supported by E-SET – The best and award winning Comprehensive, multi-platform security for all aspects of your digital life. Whatever you do online, stay protected with ESET Internet Security. The Marriott Bonvoy Card by Chase. Where you Earn points and Elite Night Credits plus, a free nights stay every anniversary with the Marriott Bonvoy Boundless Card. Passport America – The original and worlds largest 50% discount camping club where you can save at over 1,200 quality campgrounds across America including almost 100 right here in Arizona.
To purchase his books, Jim asks that if possible please visit local stores along the Mother Road. If not in the area CLICK HERE.
A few topics discussed in this podcast